Guess what? I've got published work online and in print! You can check them out by scrolling down and visiting the associated links. And if you happen to have the cash, please consider buying copies of the books and magazines—because I'd truly appreciate that!
Fiction
This is my first "official" anthology. By that, I mean this book has a paperback edition. I also mean that this was not published by my school's publisher while I was a student.
My romcom contribution to this collection ("At the Bermuda Triangle") may be more com than rom, but I still hope you enjoy it. If that's not your cup of tea, that's okay—I guarantee you'll love the other stories.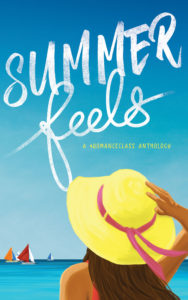 Description: Summer loving happens so fast, as you'll find with Summer Feels, an anthology of 23 stories of love under the summer sun by #romanceclass authors. Savor the candied thrill of firsts—first loves, first kisses, first solo vacations—and the bittersweet triumph of second chances. Tour the Philippines as the stories take you to mountain retreats and island paradises. Let the magic of the hot sun, clear blue skies, and lots of love take you on a roller coaster ride of feels. With stories ranging from sweet to sexy, there's sure to be something for any fan of romance.
Non-Fiction
Get pretty much all the 2017 issues and some of the 2018 ones too—I'm their Advisor columnist! (PS: I love giving advice, even when you don't outright ask for it.)
And please don't forget to check the site out as often as possible because they update almost daily (if not every day).